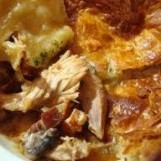 Go get that old shot gun out from under the bed.
Go for a long walk at sundown, shoot anything with long fluffy ears or goes by the name of Buggs.
Skin, joint into 5, (discard the rib cage). You should have two arms, two legs and a loin. (back to you and me)
Soak in water and a glug of malt vinegar over night.
Season and then brown the rabbit. Remove from pan
Cook a load of onions, apple, pork belly, garlic, in that pan.
Stick it all back in the pan and add stock, cider, bayleaf.
Bring to the boil, skim, simmer for one and a half hours or until tender.
Allow to cool, pick all the meat off the bones.
Make a roux. (melt butter and flour) add the stock, thickening the sauce.
Add prunes and nutmeg.
Almost there…
Get double the amount of self raising flour to suet, add seasoning and water to form a dough.
Roll out and cover pie mix in a pie dish.
Cook in a hot oven for 15mins.
Enjoy.