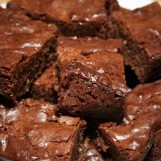 Ingredients
250g unsalted butter
200g dark chocolate
optional: 50g chopped nuts
80g cocoa powder, sifted
65g plain flour, sifted
1 teaspoon baking powder
360g caster sugar
4 large free-range eggs
Method
preheat your oven to 180°C/350°F/gas 4.
Line a 25cm square baking tin with greaseproof paper.
Melt chocolate and butter in a bain marie. Add the  nuts.
In a separate bowl, mix together the cocoa powder, flour, baking powder and sugar.
Add this to the chocolate.
Beat the eggs and fold in until you have a silky consistency.
Add your brownie mix into the baking tray, and place in the oven for around 20 minutes, or until squeegee in the middle.
Eat warm straight out the tin.
Or leave to cool and cut into 12.