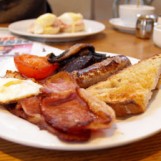 Good simple food, as local as we can.
Not locally sourced via china; but grown, caught or made locally. Did you know you can buy frozen pre-cooked bacon! whats the point. We use nice organic bread, handmade sausages, good bacon, fair-trade organic coffee, local cheese & cider, free range chicken and eggs, fresh fish. All our bread is baked in bath and we use local independent butchers. Our chips are hand cut from maris pipers potatoes and we leave the skins on cos it tastes better and its healthier for you.
Everything in the café is made from scratch by our team of wild chefs and army of smurfs in the basement. we make all our own cakes, dressings, mayo, pies, hollandaise sauce…etc We also cook everything to order, so during busy times please be patient and don't talk to the chefs; they can bite.