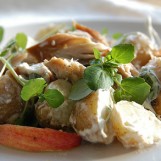 Hot sausage & Saute potato £7.95
Handmade sausage, tomato, red onion & mustard dressing on a bed of lettuce.
Warm goats cheese, honey walnut & fig £7.25
Grilled goats cheese with fresh figs, roasted walnuts and caramelised red onion and crouton on salad leaves.
Soused Mackerel salad £7.95
Cornish mackerel marinated in white wine, spices & pepper, served with mixed leaves, cream cheese, spring onion and rye bread.