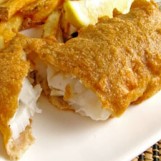 Bacon cheese burger £8.95
Homemade beefburger w/ bacon, cheese & hand-cut chips.
Rabbit pie £9.95
Wild rabbit, bacon, prunes, apple & suet pastry.
Served with salad or chips.
(Can contain shot pellets)
Falafel burger £7.95
Falafel burger with melted cheese. Served with salad, chips & chilly mayo.
Fish and chips £8.50
Freshly battered Cornish haddock, peas & tartar sauce.
Roast chicken breast £9.95
Free range chicken stuffed with home-made wild garlic pesto, mozzarella & walnuts, wrapped in bacon. Served with mash potato and spring leaks
Crispy Risotto balls £8.95
Risotto & butternut squash balls, rolled in parmesan & herb crust, served with lettuce, saute potato and mango chutney.
'8oz Rump Steak £11. 95
West country 8oz Rump steak with bearnaise sauce & chips.
Spring Lamb burger £8.95
Homemade lamb, mint & cumin burger, served with mozzarella & hand-cut chips.
We cook everything to order please be patient!